TAKING THE WORD OF GOD TO THE SPANISH-SPEAKING WORLD.
The Spanish Bible School is free, in-depth, and online, and will allow those who speak Spanish to study God's Word at their own pace, having resources available 24 hours a day, 7 days a week.
A message to the church and its members
Please watch this video by School's Director, Marlon Retana, and get to know how we are serving our Lord.
Lord willing, there will be 45 courses covering all the books of the Bible and some additional courses that will also help in the understanding of God's Word. Study materials will be based on the English curriculum by World Video Bible School (WVBS). In 2014, WVBS started the Online Bible School, which has grown to over 26,000 active students and over 140 new students each week. About 75% of these students are not yet members of the Lord's church.
¿Por Qué HayTantas Iglesias?
Popular evangelistic videos such as "What Must I Do To Be Saved?" "Why Are There So Many Churches?" and "Where Do We Go When We Die?" are already available in Spanish, and more of these topical videos will be added as the School progresses. Please take a look at this video, and find more at www.buscandolaverdad.org.
Would you like to know more about the School?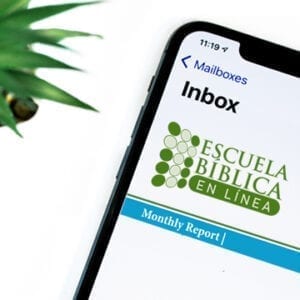 This is an archive of the monthly newsletters which are sent to inform about the progress of the School.
Feel free to subscribe to the monthly newsletters by filling this form.